Interactive training modules for aspiring fiction writers.
Write Fiction Books consists of 14 interactive, and engaging training modules delivered securely from our Advanced eLearn Platform.
Each module has been carefully constructed by an expert team of authors, editors and award-winning professionals to help aspiring fiction writers transform their ideas and blank pages into compelling fiction.
Engineered with LearnLock™ Technology.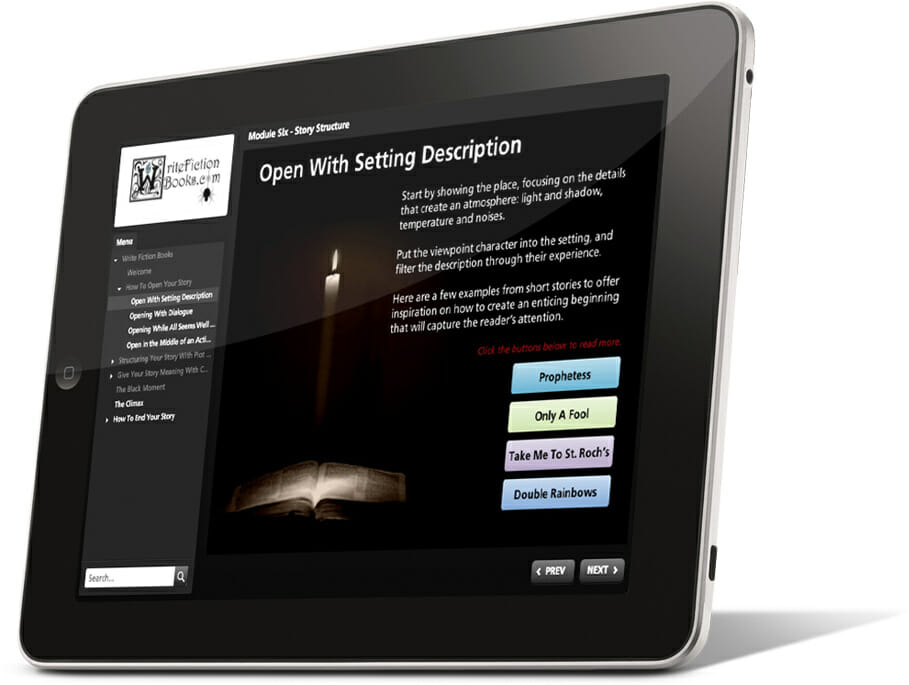 14 World-Class Course Modules:
Click the headings below for an overview of each module
Module One: Discovering Genres
Module One has been tailored to be the perfect start to your creative journey. This packed module is filled with practical action points; you'll discover what genre is best for your taste and style, as well as what forms of fiction are available to let loose your imagination and much more.
Module Overview
Discovering genres
Popular subgenres in horror fiction
The allure of fiction
Feed your fiction with your fears
Applying human attitudes
Kick-start your creativity with story titles
Forms of fiction available
Applying phobias
Using your dreams as inspiration
Taking a look at your childhood fears
Finding inspiration in specific places
Self-assessment test
Much more!
Sample Screenshots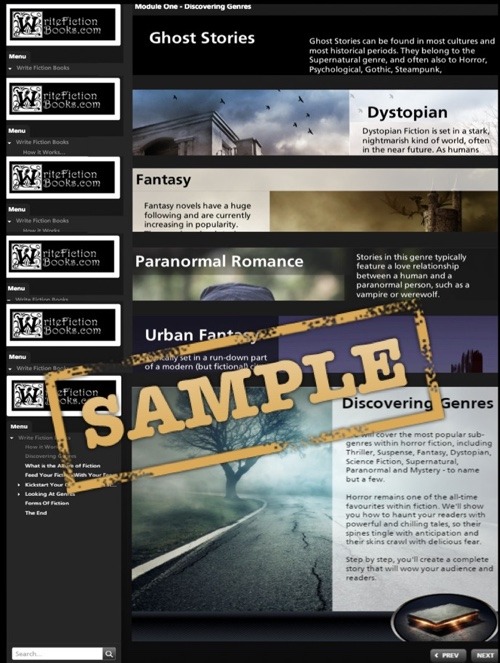 Module Two: From Idea To Plot (click to open)
In this packed module, you'll transform your raw ideas into original plots. If you're struggling for inspiration then you can use our fifteen master plot outlines to get started. With a range of writing methods revealed, you're sure to find the perfect one that suits you.
Module Overview
Idea to plot
What is a storyline?
What is a plot?
Freewriting
Fifteen master plots
Paranormal creatures
Vampires
Werewolves
Zombies
Ghosts
Plotlets under pressure
Sample plotlets
Which writing method works for you?
Decide which story to develop
Who is the main character?
Much more!
Sample Screenshots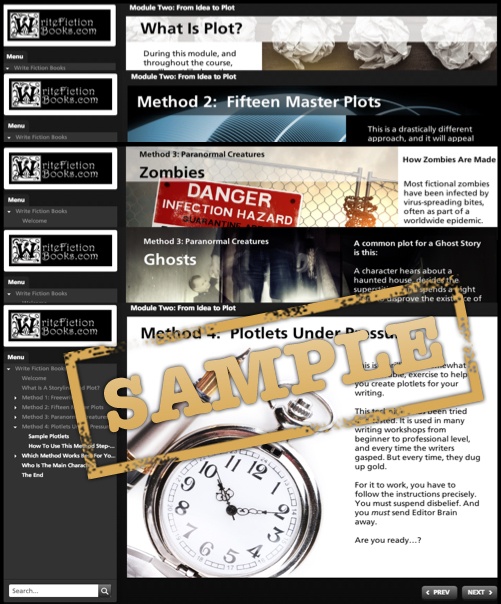 Module Three: Understanding Your Villain (click to open)
Delve deep into the world of villains, and discover how to make them convincing and memorable by studying different archetypes and psychological profiles. Watch out for tired clichés and find out how not to fall into their trap.
Module Overview
Understanding your villain
Archetypes of evil
Ten villain archetypes
Defying expectations
Archetype versus stereotype
Mixing archetypes
Goal, motivation and means
The villain's psychological profile
The villain's good side
Show the kindness in action
Plot potential
Real-life inspiration
Clichés to avoid
Self-assessment test
Much more!
Sample Screenshots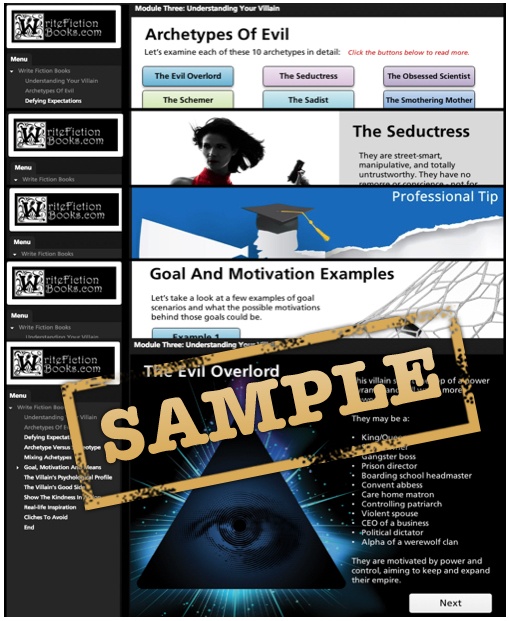 Module Four: Setting (click to open)
Discover how to create a spectacular setting for a plethora of genres. Learn to bring it all to life with the use of alluring sounds and pinpoint description, and most importantly – practical location research.
Module Overview
Setting
Fantasy and science fiction setting
Historical setting
How to describe the setting
Practical location research
Writing about real places
Make the most of the weather
Deepen the point-of-view
Strained tempers
Mood and foreboding
Collecting weather descriptions
The villain's lair
Image projections
Status symbols
Surveillance and security
Intimidation
Escape route
Dark is dangerous
Using the senses in the dark
Detail for realism
Sound the excitement
Background noises
Action sounds
Self-assessment test
Much more!
Sample Screenshots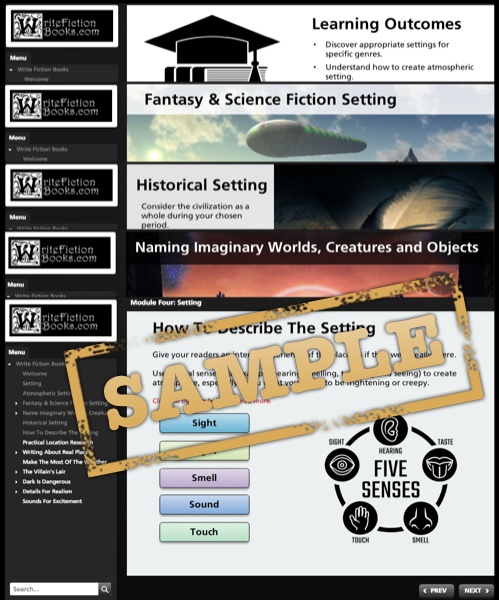 Module Five: Character and Point of View (click to open)
Uncover the secrets to create unforgettable characters and clear up any confusion with viewpoints, using our detailed outlines that range from the first person to the third.
Module Overview
Character
Point-of-view
How many characters does a story need?
Who is the story's protagonist?
Research
Core characterisation
The character's background
The character's flaw
Character's diversity
Character detail
Goal, motivation and conflict
How they see themselves and one another
Character's change while you write
Point-of-view
First Person
Second Person
Third Person
Deep point-of-view
Multiple viewpoints
Self-assessment test
Much more!
Sample Screenshots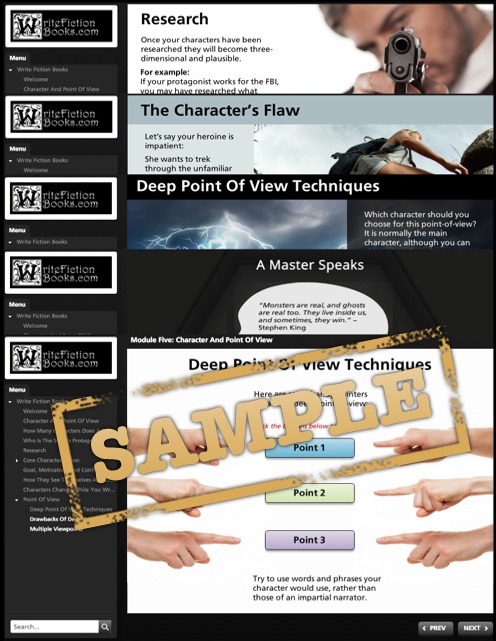 Module Six: Story Structure (click to open)
In this packed module, you'll find out multiple ways to start your story and if you're stuck for an ending, use our tried-and-tested ending examples. Also, discover how to decipher symbolism, and add themes to your writing.
Module Overview
Story structure from beginning to end
How to open your story
Opening with setting description
Opening with dialogue
Opening while all seems well in the world
Structuring your story with plot events
Story questions
Conclusion
A novel example in plot structure
Give your story meaning with conflict and theme
Outer conflict
Give your story a literary touch with symbols
How and when to use symbolism
The black moment
How to end your story
Possible endings
Leave questions in the readers mind
Self-assessment test
Much more!
Sample Screenshots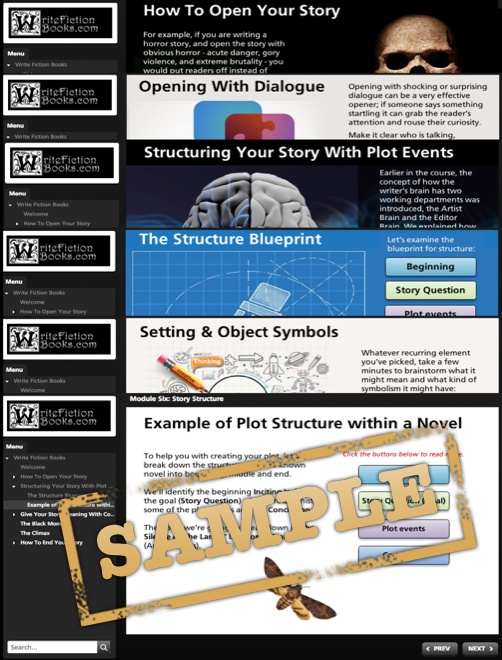 Module Seven: Building Suspense (click to open)
Become a master of suspense by using our thrilling effects that will leave your readers wanting more. This module discusses all types of suspense for a range of horror and subgenres.
Module Overview
Building suspense
Isolate your character
Send the allies
Cut the lines of communication
The 'Ticking Clock' effect
How to use the 'Ticking Clock' effect
Examples of 'Ticking Clock'
Peaks and troughs
The bluebeard effect
Heightening the suspense further
Collecting doors
Strip away the armour
Vulnerability
Cliffhangers
Main character in peril
Raise the tension
Self-assessment test
Much more!
Sample Screenshots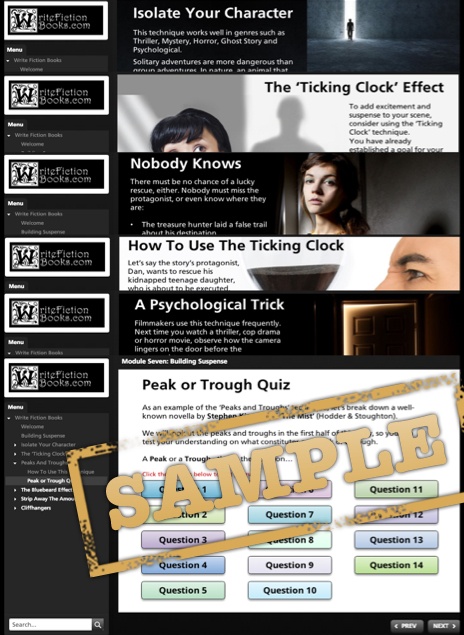 Module Eight: Dialogue and Body Language (click to open)
Learn to create dynamic dialogue with the help of 'Dialogue Writing Exercises', which will guide you to producing charismatic chatter between your characters. Slip in some action to bring the conversation alive, by studying specific body language techniques.
Module Overview
Dialogue
Body language
What is dialogue?
Dialogue tags
Dialogue beats
Writing good dialogue
How characters talk
Dialogue writing exercises
Writing snappy dialogue
Creating 'zingers'
Questions answered with questions
Body language in dialogue
Body language clues
Telling lies
Body language of a liar
The words of a liar
How does the voice sound?
Vile voices: The villain speaks
Self-assessment test
Much more!
Sample Screenshots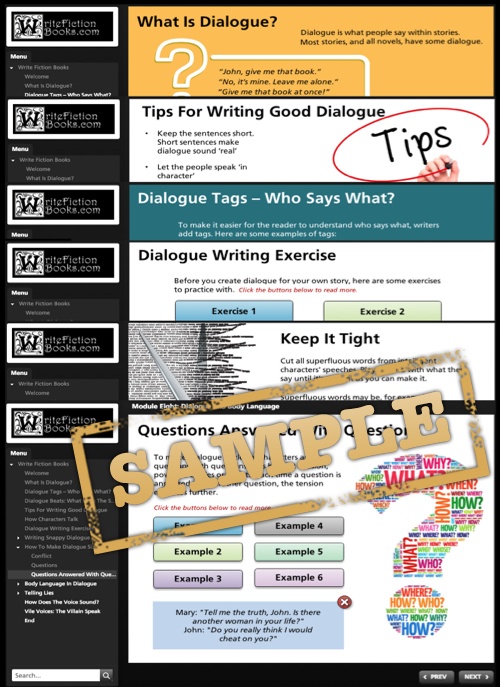 Module Nine: Shock Your Readers (click to open)
Discover how to make your readers gasp in shock and tremble with fear, by studying numerous levels of fear, suspense, and how to vary the intensity. Learn one of the most significant tips in fiction writing, 'Show, don't tell', that will renovate your writing style.
Module Overview
Shock your readers
Levels of fear
Suspense
Feel the fear
Show, don't tell
Avoid clichés
Vary the intensity
The temperature drops
Scary smiles
Cruel claws
Euphonic: Creating sound and atmosphere with words
Replace words
The wimp effect
The wimp test
How to avoid the wimp effect
Self-assessment test
Much more!
Sample Screenshots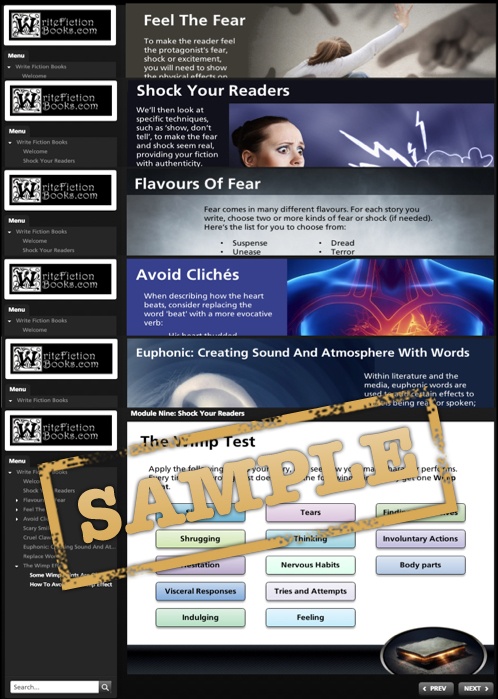 Module Ten: Alternative Scenes (click to open)
In this action packed module, you'll learn how to pack-a-punch in your fight scenes and pick-up-the-pace in your chase scenes. You'll be studying how to craft specific scenes with a range of professional techniques.
Module Overview
Alternative scenes
Chases and escapes
Reader sympathy
Danger from the surroundings
Physical symptoms
Put up a fight
Euphonic words
Fights
Night scenes
Passionate scenes
Outdoor scenes
Captivity
Violence and gore
Reader expectations
Using gore to shock
Humour
An unsuitable response
Contrast the cute and the gruesome
The 'K' rule
Show specifics
Self-assessment test
Much more!
Sample Screenshots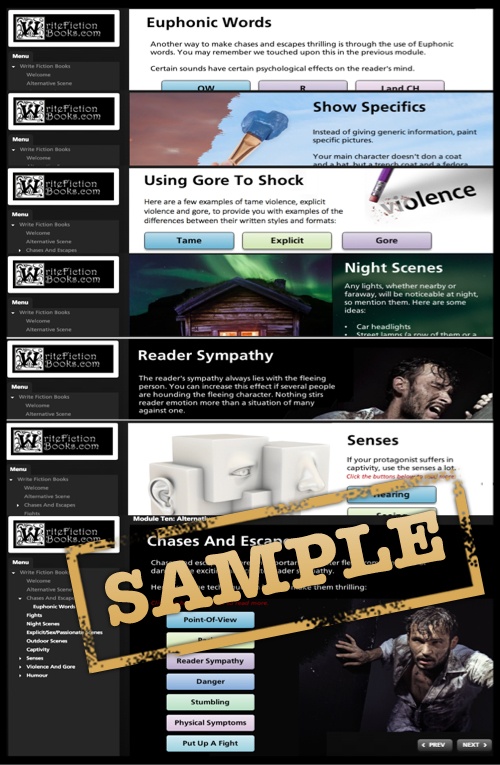 Module Eleven: Author Voice (click to open)
Uncover how to craft and perfect your author voice to make your writing noticeable with the use of practice exercises, metaphors, and verbs. Learn mistakes and beginner flags to avoid, to help save you time.
Module Overview
Author voice
Beginner flags to avoid
Expectations
Looking and seeing
Finding the best word for the job
Verbs bring your writing to life
The basics of verbs
What verbs can reveal
Foreshadowing with verbs
Practice exercises
Similes
Mistakes to avoid
Metaphors
Sentence structure
Start with the present participle
Drawing inspiration from the masters
Self-assessment test
Much more!
Sample Screenshots
Module Twelve: Revise Your Story (click to open)
Learn how to revise your writing into a perfect piece of fiction. After completing your story the hard work doesn't stop there, but completing this module will make the revision task easier and save time.
Module Overview
Revise your story
Research for extra authenticity
The revision process
Final Revision
How much to revise
Writing methods
How to receive feedback before publication
What makes a good critic?
Local
Writers' groups
Online writers' group
Critique sites
Writing forums
Social media
Paid editing service
Proof reader
How to instruct critics
How to receive critiques
How to give critiques
Pseudonym & pen names
Self-assessment test
Much more!
Sample Screenshots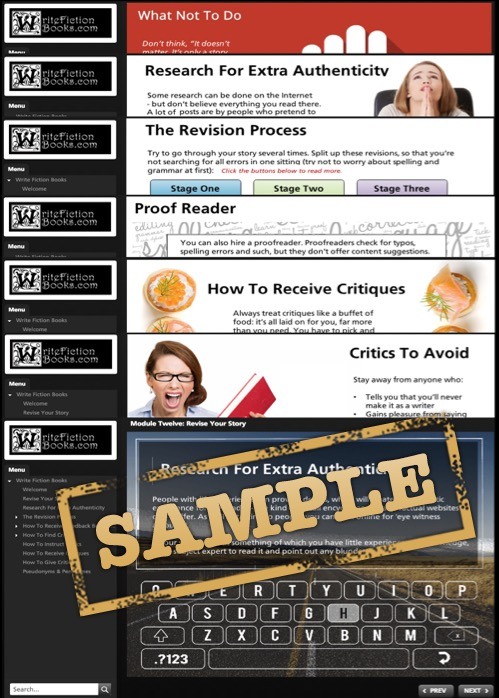 Module Thirteen: Getting Noticed (click to open)
Find out how to get your writing noticed, whether that's by literary agents, publishers, or competitions. Use examples of a cover letter, synopsis, and manuscript to help you look like a professional from the off!
Module Overview
Getting noticed
Where can you send your fiction?
Types of markets for your fiction
Types of markets for your novel
Guidelines for submission
Cover letter
Write a synopsis
No unsolicited MSS letter
How to submit
Submission strategies
How long to wait
Acceptances and rejections from publishers
Request for changes
Reasons for why your story may get rejected
Contests and competitions
Self-assessment test
Much more!
Sample Screenshots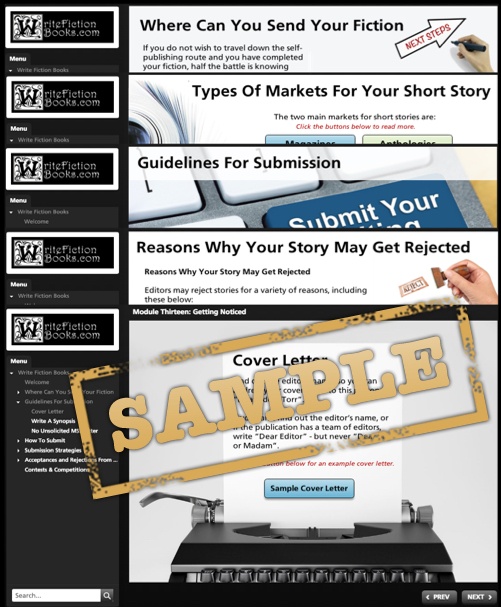 Module Fourteen: How to Build Success as a Writer (click to open)
Becoming a successful author is no easy feat, so we've packed this module full of insider information. There are also loads of handy hints for marketing yourself and your writing.
Module Overview
How to build success as a writer
Amateur or professional?
Your workspace
Writing ritual
Routine
Discipline
Procrastination
The pros and cons of being a writer
Combining day jobs and writing
Your author brand
Selling your book
Social media
Media
Marketing your book
Public lending rights
Be your own publisher
Self-assessment test
Much more!
Sample Screenshots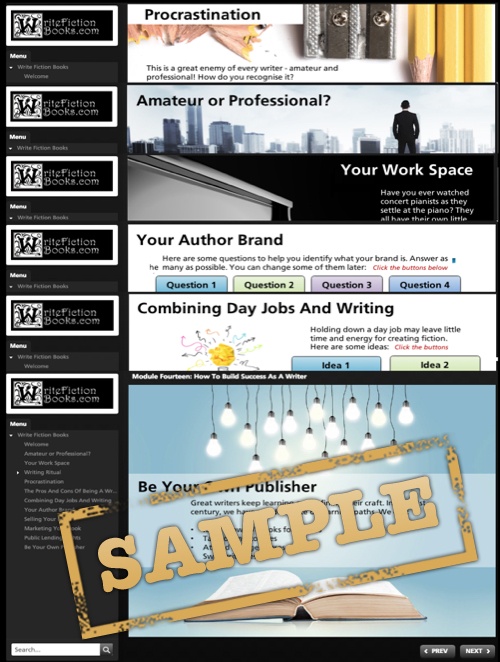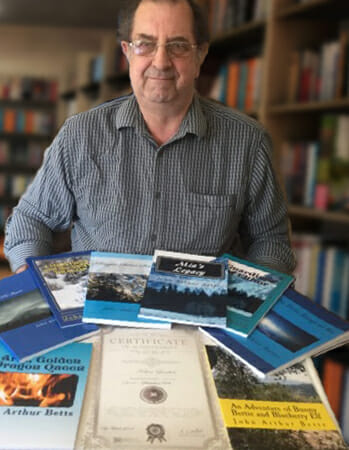 "I medically retired aged 64 when I decided to fulfil my ambition of getting published. The first course I found was Write Story Books for Children, I then moved onto the Write Fiction Books course which I have now completed.
I would recommend these courses to all writers' whether new or established. I had already written and self-published some fiction, but wanted to improve my writing and publishing skills. Your courses are informative, detailed, at an affordable price and have all the extra assistance and literature that any student may need. I feel that my writing is now "tighter" and I have the confidence to edit my own works.
I have used what I have learnt in this course to refine my work in progress, I hope to publish my new title 'Beacon, Escape from the Dome' in August 2018. I write under the pen name of John Arthur Betts."

John Arthur Betts

Published :- Aria, Golden Dragon Queen, Death of the Queen, Dragon Riders Return, The Twin Rings of Ra, Mia's Legacy, Christmas and the Snow Dragon, Guardians of Elthor and An Adventure of Bunnie Bertie and Blueberry Elf.